The YK Method for HSC Japanese Tutoring
Year 11 HSC Japanese Tutor
Hajimemashite! [Hello, nice to meet you!]

The HSC Japanese YK Tutoring is for students who absolutely love Japanese or who think it's cool to learn another language.
Students can expect clarity on how to study for HSC Continuers Japanese and
to have control over their language before they start Year 12 HSC Japanese.
If this sounds like a good plan, then join us for a consultation.
With all of our past students receiving at least a band 5 for HSC Japanese
and 90% of our students receiving a band 6 and even NSW State Ranks,
you can be confident that our YK tips, strategies, and mindset will help you regardless of whether you are taking HSC Beginner Japanese, HSC Continuer Japanese, HSC Extension Japanese
I am a Year 12 student at Hornsby Girls High School and I've been taking Japanese continuers + extension and Maths lessons here at YK Education. The teachers are very helpful and I feel that they really care about their students. I also owe my achievements in Japanese Extension to Yuna because without her guidance and support, I definitely would not have been able to rank 1st.
I received tuition for Japanese at YK Education from year 10 in high school until I completed the HSC. My time spent learning here led to my great achievements in the subject and encouraged me to pursue further study of Japanese language at the tertiary level. The tutors at YK Education were always friendly and genuinely cared about their students' development and well being.
Yuna is an excellent tutor for the HSC continuers and extension Japanese courses. She has comprehensive knowledge on the course content and examination requirements for both subjects. With her help, I was able to achieve a first in course for the continuers Japanese course and a band E4 for the extension Japanese course.
Year 11 Japanese Overview
Don't be confused about how to study HSC Japanese anymore!
Why should you choose HSC Japanese Tutoring at YK?
One of the biggest differences with us is that YK Education is run by an NSW Qualified high school teacher who also has HSC marking experience so you can be confident that the tips you receive from her are valid and reliable. 
Learn all HSC Grammar and Kanji in Year 11 so that students have full control of the language before year 12. That way students can focus on exam technique and time management in year 12 during the HSC year. Language is extra fun when you can use it!
Lessons are conducted in the Japanese language so that students can develop their listening and speaking skills through their 90 minute study time. We adjust our language to our student's level and slowly increase the complexity of our output as we speak to the class. I.e. how we speak to year 11 students will be different to how we speak to year 12 students.
Get help with your school assessments. Learn HSC study tips, Japanese speaking and writing tips and exam strategies.
Receive accurate feedback on your writing and speaking from a Japanese language point of view (sensei is a native Japanese speaker with full marks for Japanese Language Proficiency Test 1) and also from HSC marking point of view.
We don't want Japanese to be simply a "subject they study at school".
Laguage learning is such a special experience. We want students to enjoy being immersed in Japanese language and culture.
Japanese is taught in Japanese so students understand that "language is a communication tool".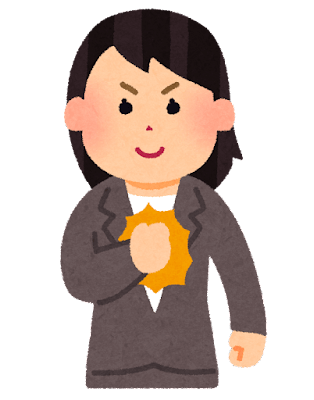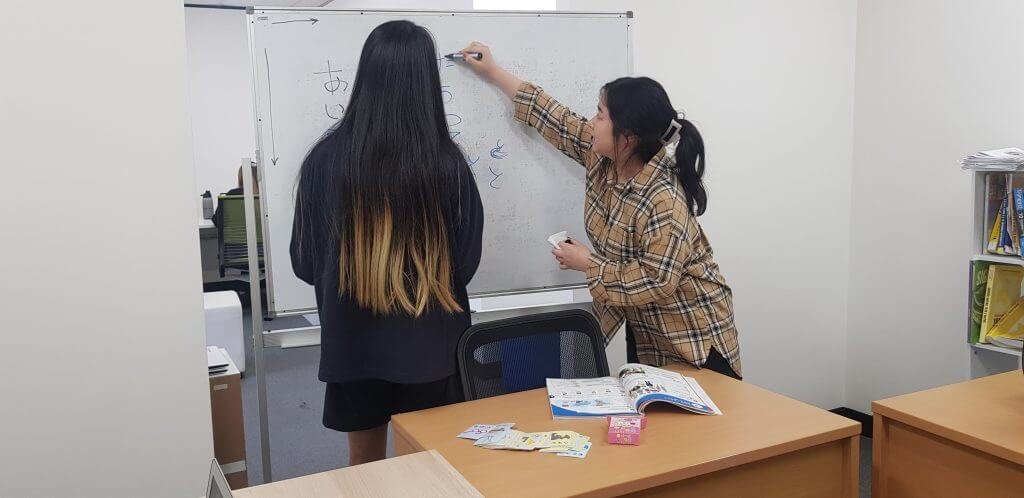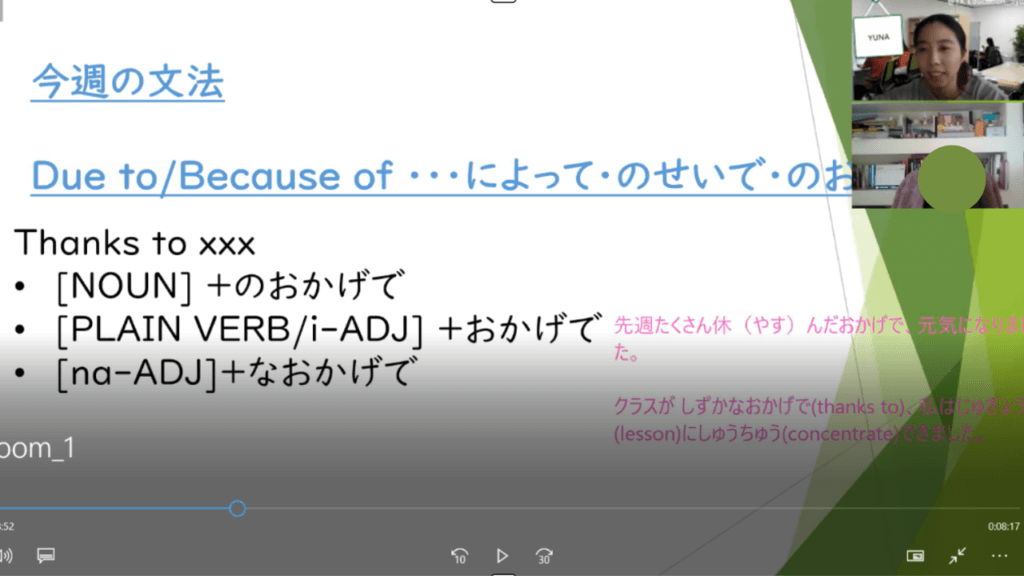 Ready to try YK Japanese experience? Fill out the form or call 0433 314 850
Year 11 HSC Japanese Syllabus information
Year 11 HSC Beginners Japanese Syllabus Overview
This course is intended for students who do not have prior learning in Japanese or those who studied for 100 hours or less in year 7, 8, 9, or 10.
Students learn the three writing systems of Japanese: Hiragana, Katakana, Kanji (list in the links below)
There are 4 skills to master in HSC Beginners Japanese, just like when people learn any language. HSC Beginners Japanese 2.5 hour-exam breakdown is as follows:
Listening and responding (Respond in English)

Reading and responding (Respond in English)

Writing (3 tasks with 100ji, 150ji and 250ji)

Speaking (5-minute conversation)
[Refer to page 12 of the HSC Beginner Japanese Syllabus or skim through the HSC Beginner Japanese Past Paper if you'd like to learn more. Links below.]
Other facts to note:
Students are allowed monolingual and/or bilingual dictionaries during the examination.
There is no prescribed vocabulary list but students learn strategies from YK to ensure that they are prepared for any Japanese examination.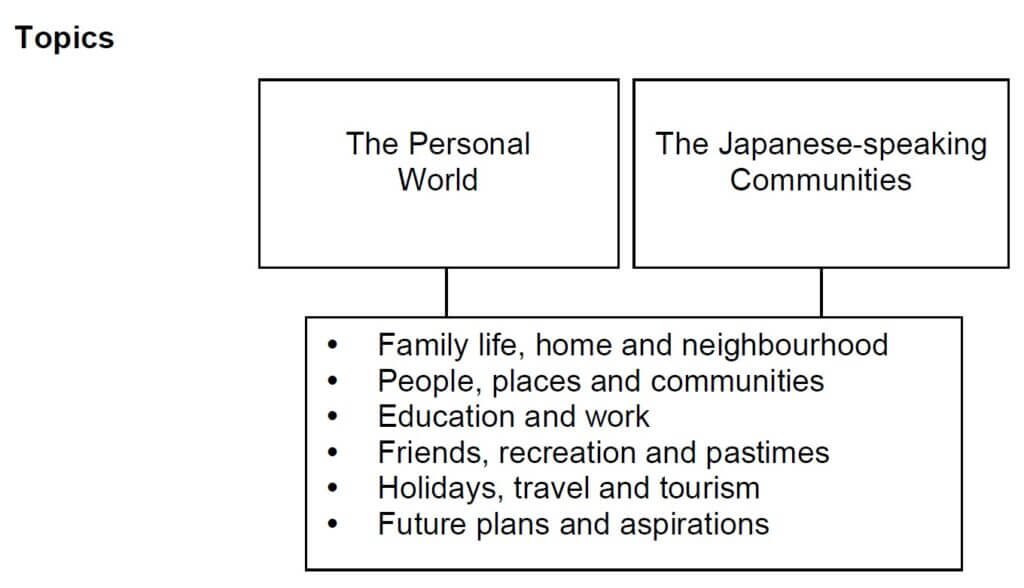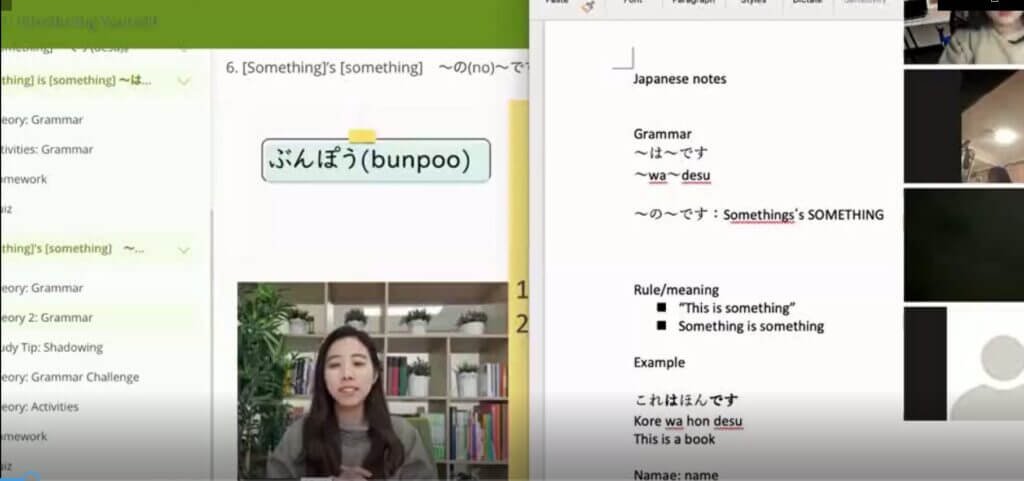 Click for useful NESA Resources for HSC Continuers Japanese
Year 11 HSC Continuers Japanese Syllabus Overview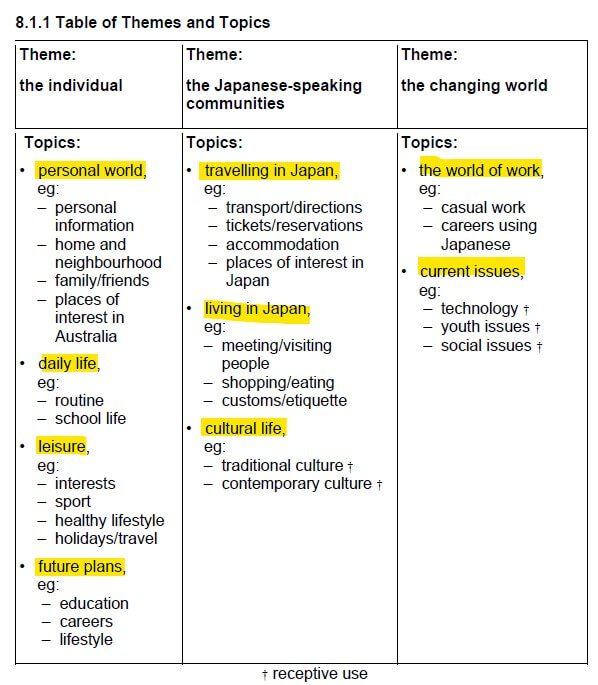 This course is intended to cater for students who have studied Japanese in year 9 and 10.
There are 4 skills to master in HSC Continuers Japanese, just like when people learn any language. The 3 hour HSC Japanese Continuers Examination breakdown as follows:
Listening and responding (Respond in English)

Reading and responding (Respond in English and Japanese)

Writing (2 tasks with 150ji and 400ji)

Speaking (10 minute conversation)
And according to the syllabus, using these 4 skills students will learn how to …
Communicate to exchange opinion

Produce spoken and written text (speaking and writing assessment)

Understand aspects of language and culture and Japanese speaking communities
There is no prescribed vocabulary but here's a simple tip.
Since some themes are prescribed, the words that come up in the exams are not completely random. Choose to learn the vocabularies that are related to these HSC Continuers Japanese prescribed themes. [Themes from the syllabus listed on the left]
Just like this, students can expect tips so that they can have greater clarity on how to study.
Although students won't know the exact question, all the Japanese speaking and writing questions will revolve around these topics so yes, students can study for Japanese!
HSC Continuers Japanese
90 minutes per week inlcuding 30min Revision quiz, 40min Grammar study, 20min Skills develpment
Tips, strategies, mindset to approach HSC Japanese

Resources that you need to prepare for exams

A Japanese-speaking environment because sensei is Bilingual Japanese and English

Grammar and Kanji quizzes and weekly writing tasks

Feedback on your writing and Speaking

Help with school assessments

A fun and productive learning environment with peers who love Japan as much as you do!

Private lessons with Yuna are limited ($150ph)
Ready to learn more HSC Japanese study tips with us? Call Yuna 0433 314 850 Or fill out the form