The YK Method for Year 10 Maths Tutoring
Year 10 Maths Tutors Sydney
The only Maths Tutoring centre in Sydney that integrates private tutoring and group tutoring classes to help prepare for Year 11 and Year 12 Maths.
Year 10 Maths YK program is a two hour per week program designed to…
provide opportunities to receive personalised support (one hour)

Expose students to exam style questions (one hour)
YK Education has a structured approach to student learning, in which it provides a one-on-one tutoring lesson as well as a session to practice exam-style questions. Not only does YK Education excel at creating a positive learning environment, but also in building close relationships between students and their tutors.
My son attended YK Education for 4 years for English and maths. He gained a lot of confidence and his mark improved tremendously. The lesson structure was well crafted and easy to follow. Tutors were very supportive and caring in various ways during the 2020 HSC. I highly recommend YK Education.
By the end of Year 12, I liked to study maths and was really happy about having decided to join YK Education! Its not just a tutoring college, but a place where students are always welcomed by supportive and friendly tutors who work together with you to achieve your personal best. Highly recommend!!
Why choose Year 10 Maths YK Tutoring?
Maths tutoring at YK is unique because students can expect to receive a Maths tutoring program that suits their needs.  Whether students take the Year 10 5.2 Maths lessons or Year 10 5.3 Maths lessons at school.
Here are 3 reasons why our Maths tutoring has helped students improve their results and gain confidence in Maths.
1. Students learn the Maths topics in the same order as their school.
In NSW, every school has a different topic sequence they follow.
This means that the content of the assessment every term slightly differs depending on the school. That is why our individualised lesson plan aligns with each student's scope and sequence in school. Students are guided on the relevant topics they need help with the most! 
2. Students receive a custom Maths program based on the student's current ability.
Every student is supported with our YK program because the Maths lessons are customised to the student's needs.  Our trained YK-tutors continually assess student progress and adjust the lesson plan and pace accordingly.
3. Lessons are structured and guided by YK-trained tutors using in-house material
Students can expect structured 60 minutes lessons including homework, quizzes, and Maths exam preparation. Students receive weekly theory books and homework sheets and they will be guided by a YK-qualified tutor who has been trained on evidence-based teaching methods.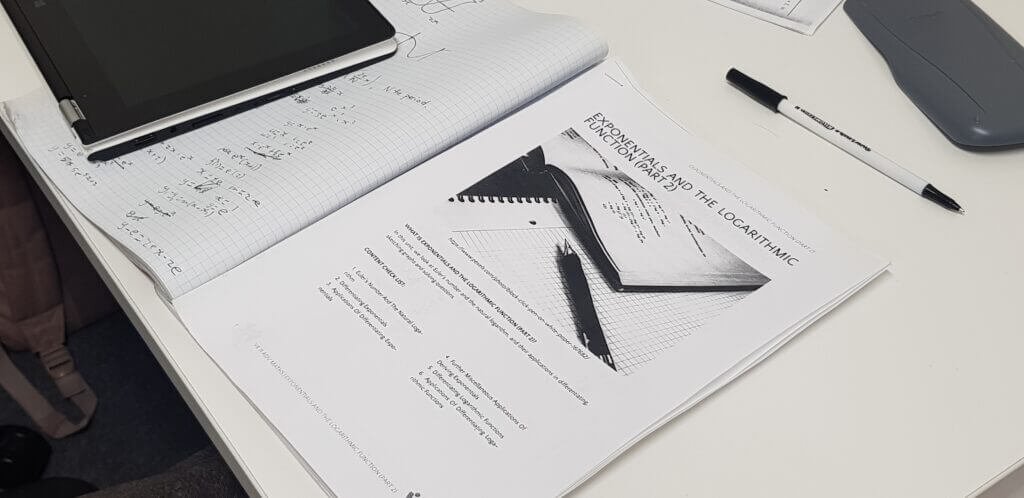 Call Yuna 0433 314 850 OR
Fill out your details for a free consultation
Year 10 Mathematics Syllabus information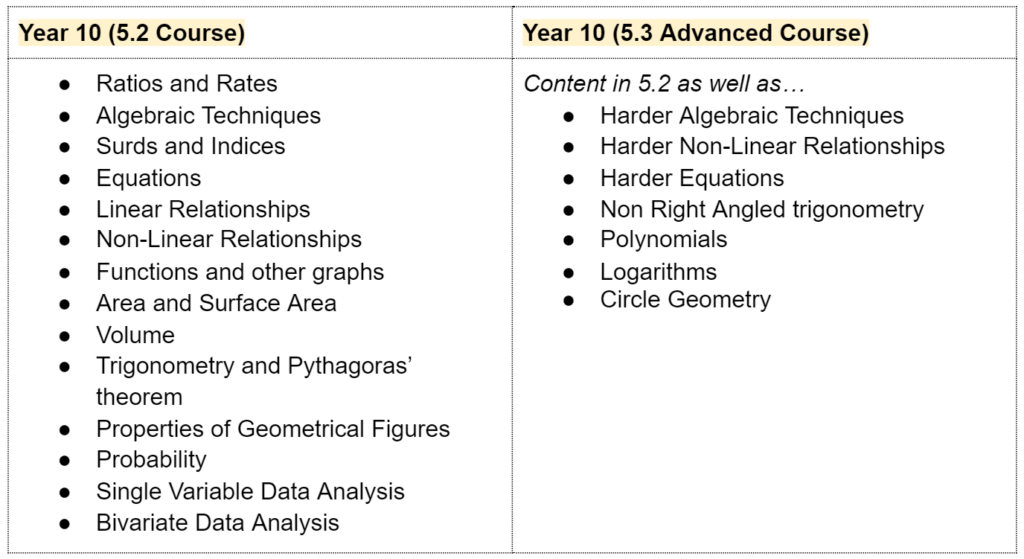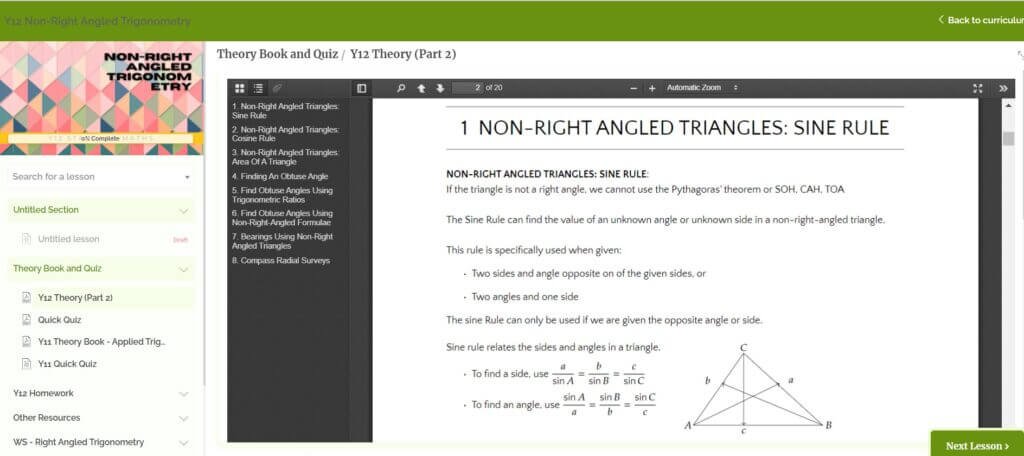 Year 10 Mathematics prepares students for the year 11 and year 12 Maths courses. It is a great time to start Maths tutoring to establish a strong foundation for senior studies.
There are prerequisites or prior knowledge from the Year 10 Maths syllabus that are assumed knowledge in Year 11. If students would like to take the Year 11 Advanced Maths course, it is strongly suggested that they complete the 5.3 Advanced Mathematics Course in Year 10. 
Discuss with us if you plan to do Advanced Maths but are enrolled in the 5.2 Year 10 Maths course at school. We develop a custom program for each student so that they are prepared for senior mathematics.
The YK-programs are developed so that every YK student is given the opportunity to achieve their personal best. Customised programs allow us to support individual needs and that is why our students always improve.
Click below for useful NESA Resources for Year 10 Mathematics
HSC Year 10 Mathematics
2 hours per week: 1 hour - learn theory with individualised support, 1 hour - exam style questions
1 hour private lesson (up to 2 students) to learn the theory weekly

1 hour workshop lesson for exam practice weekly

Resources that you need to prepare for exams

Quiz to identify strengths and knowledge gaps

Tips, strategies, mindset to approach HSC Mathematics
Ready to start Year 10 Maths Tutoring at YK?
Call Yuna 0433 314 850 or fill out the form
1.

My child is doing group tutoring elsewhere but she doesn't learn the topics in the same order as school. Can you help?

Yes! We understand that every school follows a different order of topics.

We customise the program for every student because we want to make sure that students are learning what is most relevant to them. Send us the school's scope and sequence and past exam results/papers and we develop a learning program for the individual.

2.

I'm looking for a private Maths tutor. Do you offer those services?

Our service involves 1 hour of private (up to 2 students) and 1 hour of group workshop lessons. 

You will find that the perfect balance of individualised instruction and peer motivation results in a holistic approach to studying. Even in the group lessons, students are following their individual programs. 

This is why past students from YK Education have all achieved at least a band 5 in the HSC and many achieve the top 10 in the whole grade. 

3.

Who are the Maths tutors?

YK Education is lead by a qualified and experienced high school teacher who has experience in Department of Education Schools, HSC Marking, and University teaching.  She is the backbone of YK Education.

YK tutors have all received top bands in the relevant extension subject so you can be confident that their knowledge is strong.

In addition to that, every YK-Tutor goes through an official YK teaching course on evidence-based teaching methods developed by Yuna so you can be sure that no matter which tutor you are taught by, you will receive the YK-learning experience.

4.

Can you share some past students' Maths exam results?

Results of our past students are proof that the YK teaching method works!

Full marks in Advanced Mathematics at Willoughby GHS

Full marks in Advanced Mathematics at Sydney Grammar School

1st in the class for Year 10 5.3 Mathematics in Barker College

3rd in the grade for Extension 1 Mathematics at Sydney Grammar School

1st in Year 12 Advanced Mathematics at Turrumurra High School




….and the list goes on

5.

I'm interested. What should I do next?

Thank you for trusting us! We would love to meet you for a consultation.

Please call ot text Yuna (0433 314 850) for a complimentary consultation or half-price trial.

All lessons will be in an office in St Leonards (2 train stops from Chatswood)

Or if you are far from St Leonards, simply join us online.

Address: 4/50 Atchison Street, St Leonards NSW, Australia, 2065.

Phone: 0433 314 850

Email: ykeducation4@gmail.com
Learn from YK-Qualified Year 10 Maths Tutors now
Customised program that follows your school's schedule